The forecast for Christmas day here at our place is partly sunny with a high of 60. I've been craving eggnog for a couple of weeks but I'd made up my mind to save it for Christmas and make it a treat. There's a comforting ritual in preparing homemade eggnog — separating the eggs, whisking the yolk with sugar and a dash of vanilla, blending in the cream and bourbon, whipping the egg whites into a pearly froth and folding it all into a cloud with fresh grated nutmeg on top. We have these lovely rocks glasses gifted to us on our wedding day and they make the perfect serving vessel for eggnog with their weighted, thick bottom and slender, sleek walls. They provide a heft that begs for slow, contemplative enjoyment of the contents within. And many a Christmas eve I've had a late night eggnog while trying to suspend disbelief and imagine the Santa of my youth. However, the whole ritual sounds a bit incongruent considering that we'll barely even need long sleeves that day. So I'm moving to plan B (and C) for some holiday ritual relief. 
Growing up, John Denver and The Muppets were the soundtrack of Christmas in my house. We had a cassette of the Christmas special (after the 8 track gave up the ghost) and it was on steady repeat throughout the season. Later, when I moved out onto my own, my mom sent me my own version on CD that I plan to dig out later today. It'll take me back and regardless of the unseasonably warm weather, bring about that holiday cheer. I'll bet I can still sing the entire album with all the quirky parts and dialogue as it is so deeply etched in my memory. As soon as Christmas registers in my awareness, that album quickly surfaces as a collection of earworms from my childhood. In particular, "Little Saint Nick" because I began my musical life as a drummer and Animal, the Muppet drummer, was my hero — "run run reindeer!" 
Expanding my Christmas tradition years later, I added "Merry Christmas from the Family" by Robert Earl Keen to the mix. While likely to be lesser known than The Muppets, Robert Earl is royalty in Texas largely because he nails Texas — the good, the bad, and the sometimes ugly — better than just about anyone except for maybe Hank Hill. This one's a sing along for sure and much like the 5 golden rings stanza we all know and love, you soon find yourself joining in at the appropriate lines. It is irreverent and bawdy — and holds a place near and dear to Texans wherever they live. It always manages to find its way into the CD player at Christmas time. I even have the picture book that goes along with the song and comes with recipes (including one for eggnog). 
Lauryn wanted me to add a few of her favorites, the all time favorite top of the list being John Lennon's Happy Xmas (War is Over) which has been known to bring her to tears, and With Bells On by Dolly Parton and Kenny Rogers — which, come to think of it, also brings her to tears. But that's Lauryn.
So whatever your traditions are, feel free to add a little of the above. But please know how blessed you make us feel to have you as part of our lives. The year ahead is full of promise and we can't wait to share the new music with you. Merry Christmas. Happy Holidays.
~Dennis
December 24, 2019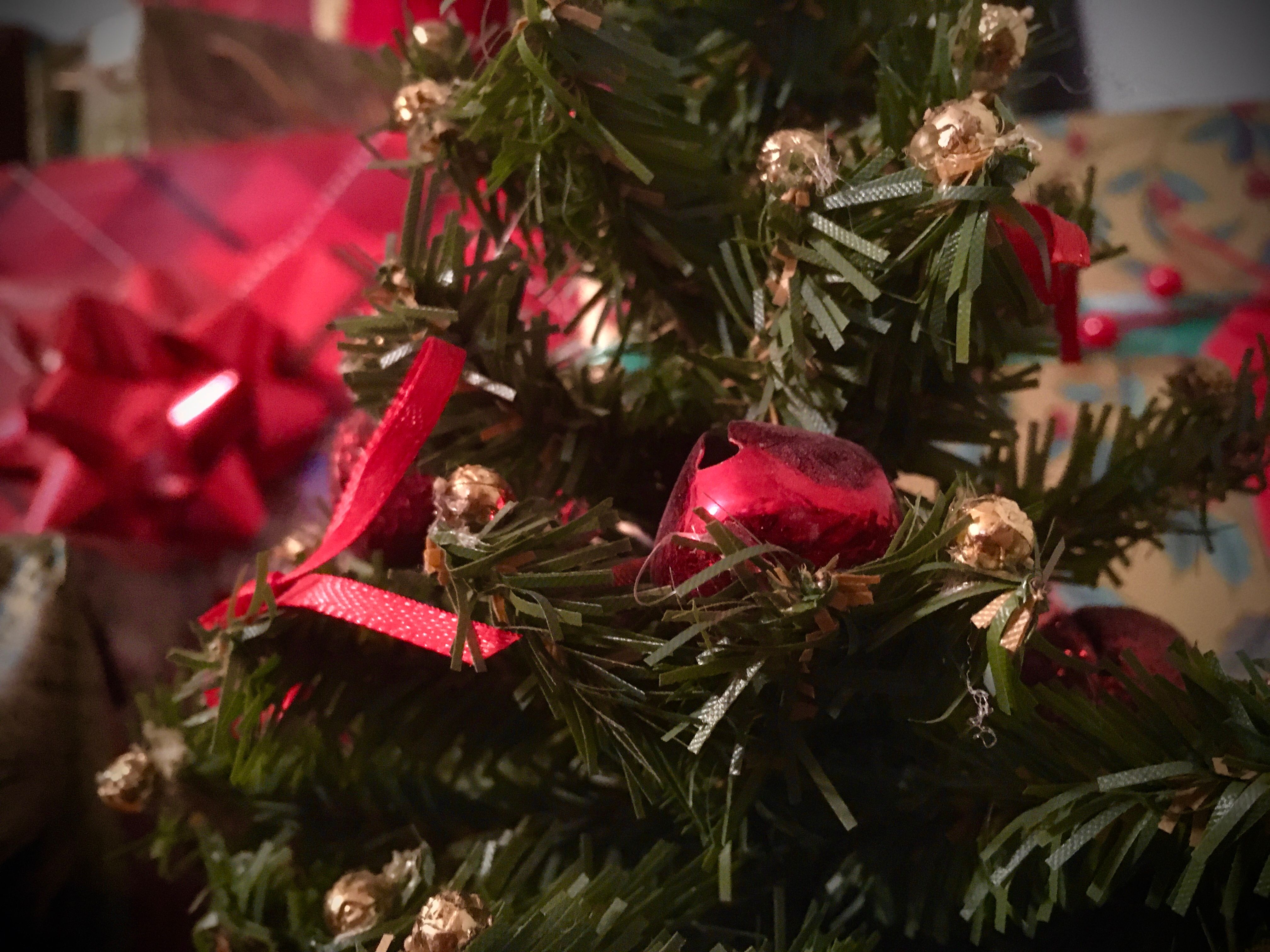 Close up of our mini Christmas tree. We like to keep things simple around here.