"You can be amazing you can turn a phrase into a weapon or a drug
You can be the outcast, or be the backlash
Of somebody's lack of love 
Or you can start speaking up 
Nothing's gonna hurt you the way that words do 
When they settle 'neath your skin 
Kept on the inside, no sunlight 
Sometimes a shadow wins…" 
These words tumbled through my earbuds and into my heart earlier this summer as I walked around the park near our house. I had recently discovered the music of Sara Bareilles and I was binge listening to her back catalogue because that's what you do when you are late to the party and you discover a musician with an extensive back catalogue. The words are from her song "Brave" (co-written with Jack Antonoff ) and they were exactly what I needed to hear at that moment. 
For the next week or so I listened to that song every single morning, sometimes watching the video (because it's awesome) and sometimes just dancing in the kitchen, singing it loud, even though it is way out of my vocal range, just because it rang so true for me and it made me so happy. It's the very definition of pop music, not the kind of music I typically listen to, but I bought the album anyway. For four minutes every morning in my kitchen, I got a boost from this little song. 
Which got me wondering, when did I stop dancing? Why did I stop dancing? I used to love to dance. I remember dancing in the upstairs hallway of my childhood home, on the tiny landing to which all the bedroom doors opened, often with one or both of my sisters, usually to some silly pop song. I don't remember many details, just dancing and laughing and being happy. 
When I was in college, deep in my studies as a classical violinist, a new band called Katrina and the Waves came out with a song called Walking on Sunshine. And I loved it. Because, back then I was still dancing; in between playing Beethoven Symphonies and Mozart operas and Dvorak string quartets, I was dancing — at home, in my car, and in clubs, to bands like Echo and the Bunnymen, The Ramones, The Clash, to Joe Jackson, Madonna, and The Romantics. 
But somewhere along the way, I stopped dancing. Did I become too serious? I don't know. In 2000, the movie High Fidelity came out and in it the incredibly obnoxious Jack Black dances, ever so briefly, to Walking on Sunshine. I couldn't remember the last time I had danced, but that movie landed in my top five (yes, that's a reference to the movie) in part because of that scene. I had completely forgotten about that song and it took me back to how happy it had once made me. (Also: I have a lifelong crush on John Cusack.) 
Walking on Sunshine is the only song of Katrina and The Waves that I know. So I downloaded it and it became my morning Kitchen Dance Party song. Even if I couldn't remember why or when I stopped dancing, I was remembering how good even a five minute dance party made me feel. 
I shared this revelation on Facebook and the comments started rolling in, with suggestions and YouTube links filling up the post. Flashback songs from my fellow 80s friends, songs from others of bands I would never listen to now, songs I had forgotten about and songs I had never heard of. And I started digging in to all the happy dance music out there, like The Sound of Sunshine and Groove is in the Heart and What I Like About You and Steppin' Out. 
This is kind of a rambling post, but here is the crux of it: I spend much of my time living right on the precipice of depression; between worrying about our future in this very uncertain career and having an ongoing existential crisis about the point of it all, I'm more John Cusack than Jack Black.
It is easy to dance in the kitchen when I am in a relatively happy place. But this morning, I wasn't there. I just wasn't. I reluctantly tried anyway; warming myself in front of the wood stove, I put my earbuds in and cued up "The Sound of Sunshine" — the snappiest, most annoyingly cheerful song I had discovered in this journey — and it was impossible to not start tapping my feet and quietly bopping in front of the stove. Slowly, gradually, eventually, I couldn't help myself. I was dancing again. In the kitchen.
I'm so glad I tried. Dennis is now subject to at least one of these silly pop songs on the way to our shows. On a more recent walk in the park I learned that I can even dance to one of my own songs — like this one or this one. Dancing is not the end-all and be-all answer to the ways that life can beat you down. But it sure is a good start to making you find a little sunshine along the way. 
And by the way, I'm still open to suggestions for my Kitchen Dance Party playlist.
~Lauryn
October 31, 2019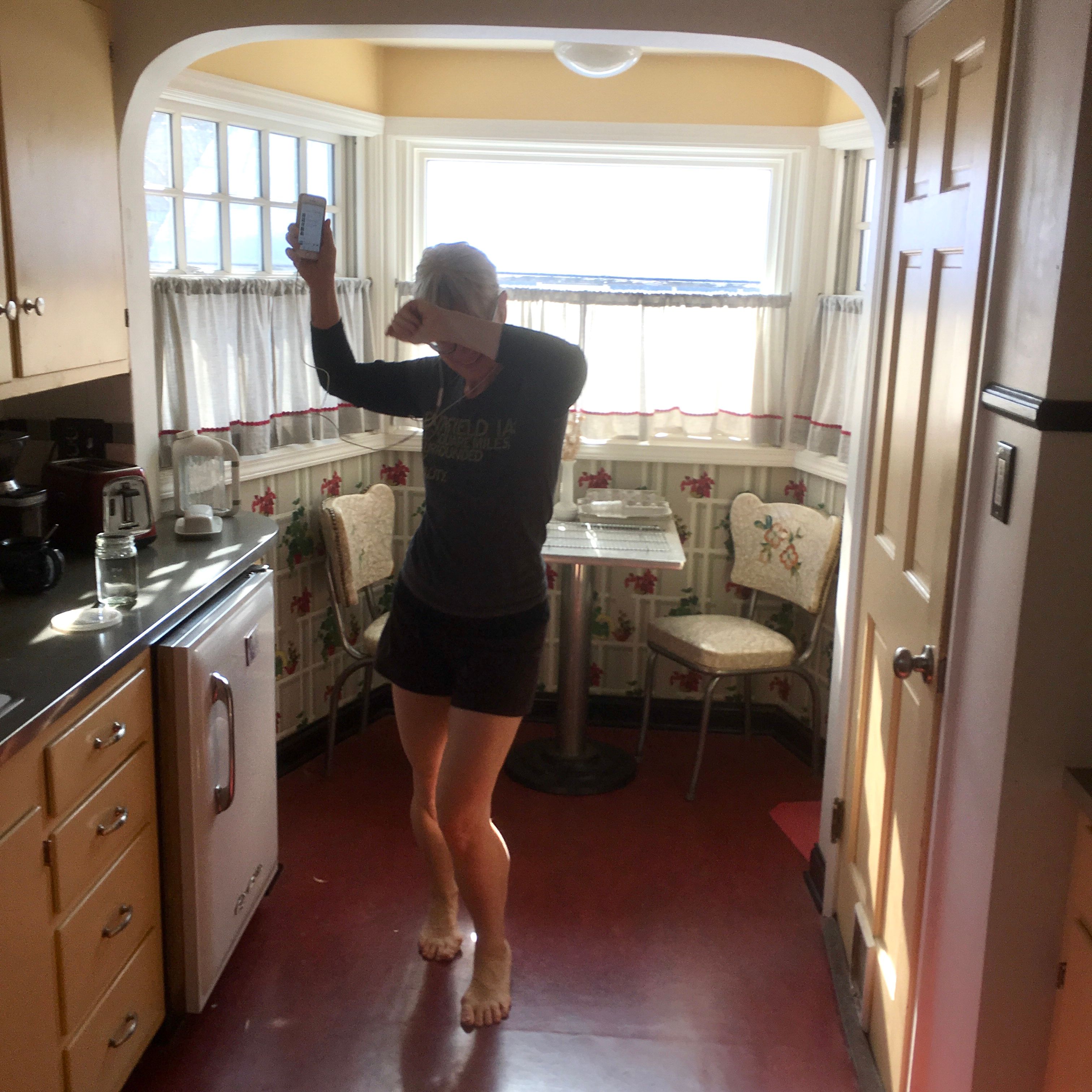 Dennis doesn't dance with me but it makes him smile too.