I am sitting on a sofa in a cabin frozen in time outside Pine, Colorado, and while I had planned to write about house concerts — we have had three very different but equally beautiful experiences recently — all I really want to do is attempt to convey what it feels like to stop, finally, and take a deep breath. 
We are staying with a friend up at her family's cabin, a cabin that has been in their family since the mid-70s. The cabins in this enclave are not cabins made to feel rustic — they just are rustic. They are built haphazardly and disheveledly, crammed really, into the rocks and crevices of this narrow canyon, whose winding road at its widest is barely able to accommodate two passing vehicles. The exterior wood planks of this particular cabin are all different lengths, to fit into the steep landscape of boulders and pines and aspens, and the cabin is tall, because it simply cannot sprawl. The kitchen floor slants steeply and when I crack my breakfast eggs, they slide to the back end of the pan and settle in. How much the kitchen leans, while still remaining solid, comforts me. 
The spring rains have fallen regularly after a long winter and so the creek is high. It is mid-June, but it is still cold, cold enough for a fire in the wood stove, and the popping and crackling of the wood, the sweet scent of burning cedar, the steady song from the rushing creek, the ponderosa pines dancing in the wind, the aspens leaves flittering and sparkling in the sunlight are all such a welcome change from the rigors of the road and nearly a week in the overly crowded cities of the Front Range, it nearly makes me weep.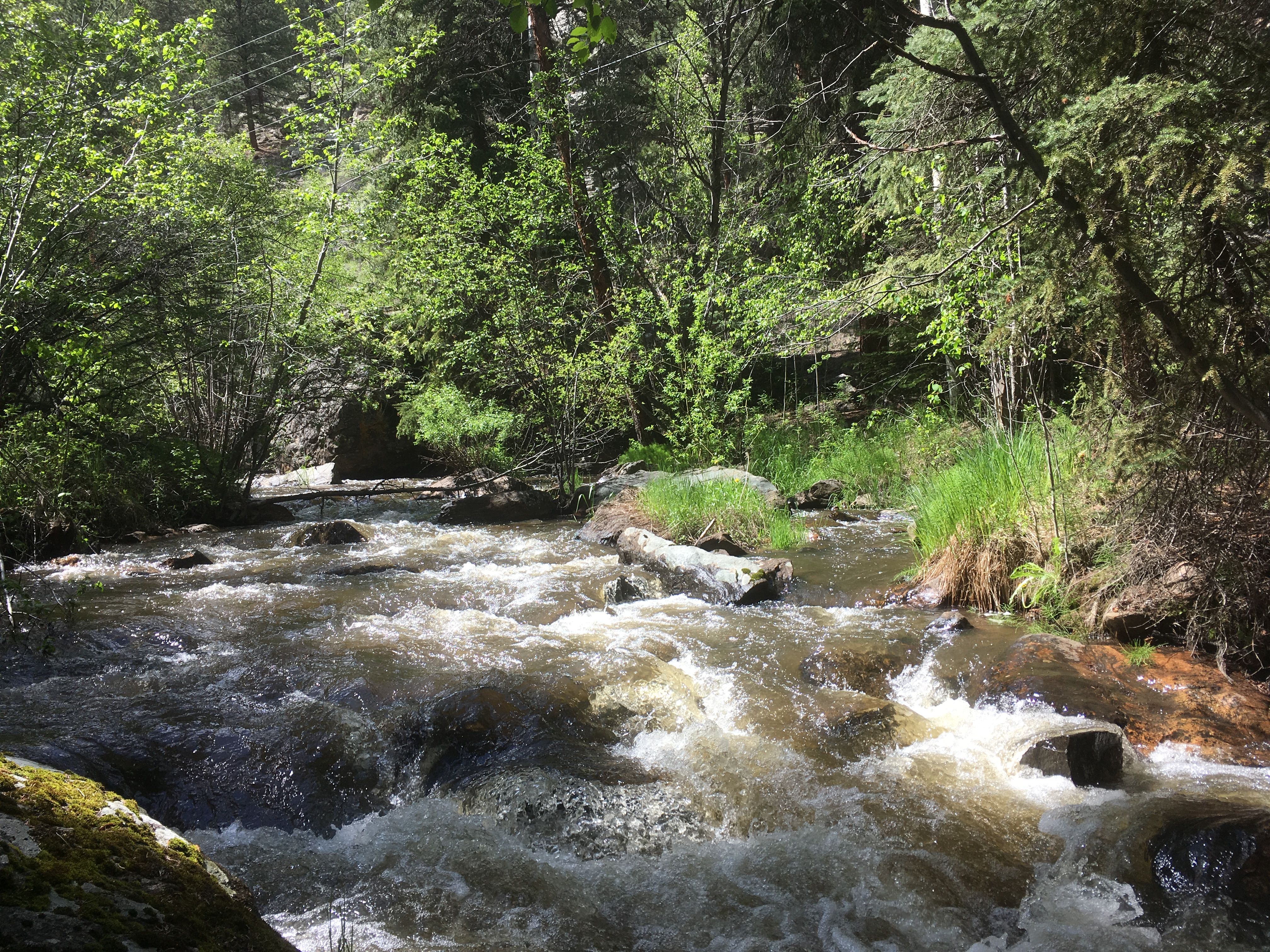 Walking along a mountain creek does wonders for my soul.
I don't know about Dennis, but it takes me a bit to let the quiet of this place seep into my bones. At first, I am anxious and a little beside myself at the thought of not running, not doing — plus I don't have a book to read because the library book I have dragged across the country is not at all speaking to me. But our friend hands me a stack of books, including the latest memoir from Pam Houston, one of my favorite authors, and I allow myself to be transported to her ranch outside of Creede. I read and I remember with an inexplicable melancholy what I loved so much about my time living in Colorado, nearly two decades ago. 
Our friend has had a challenging time of things lately, losing both a beloved and kindred spirit uncle and her brilliant older brother within the last year, and their presence permeates the cabin. Her brother's fantastical creative mind found a home in a sprawling mural on the bathroom wall, and for two nights now, we have sifted through the boxes of LPs that belonged to her uncle, an uncle who had musical tastes right up our alley. We listen, on an old stereo, to Emmylou and Lucinda and Townes and the Dead and Dylan and John Denver. We revisit our own history with this music and we have to get up and flip the record or sometimes we have to jump up because the same line is being sung over and over when the needle gets stuck in place. I twice attempt — successfully — to drop the needle in the middle of an album just to hear one particular song and we talk about how much more visceral, how much more physical, listening to music once was. Our friend jokes about how much easier it must have been to get in your ten thousand steps when we listened to LPs and didn't have television remotes.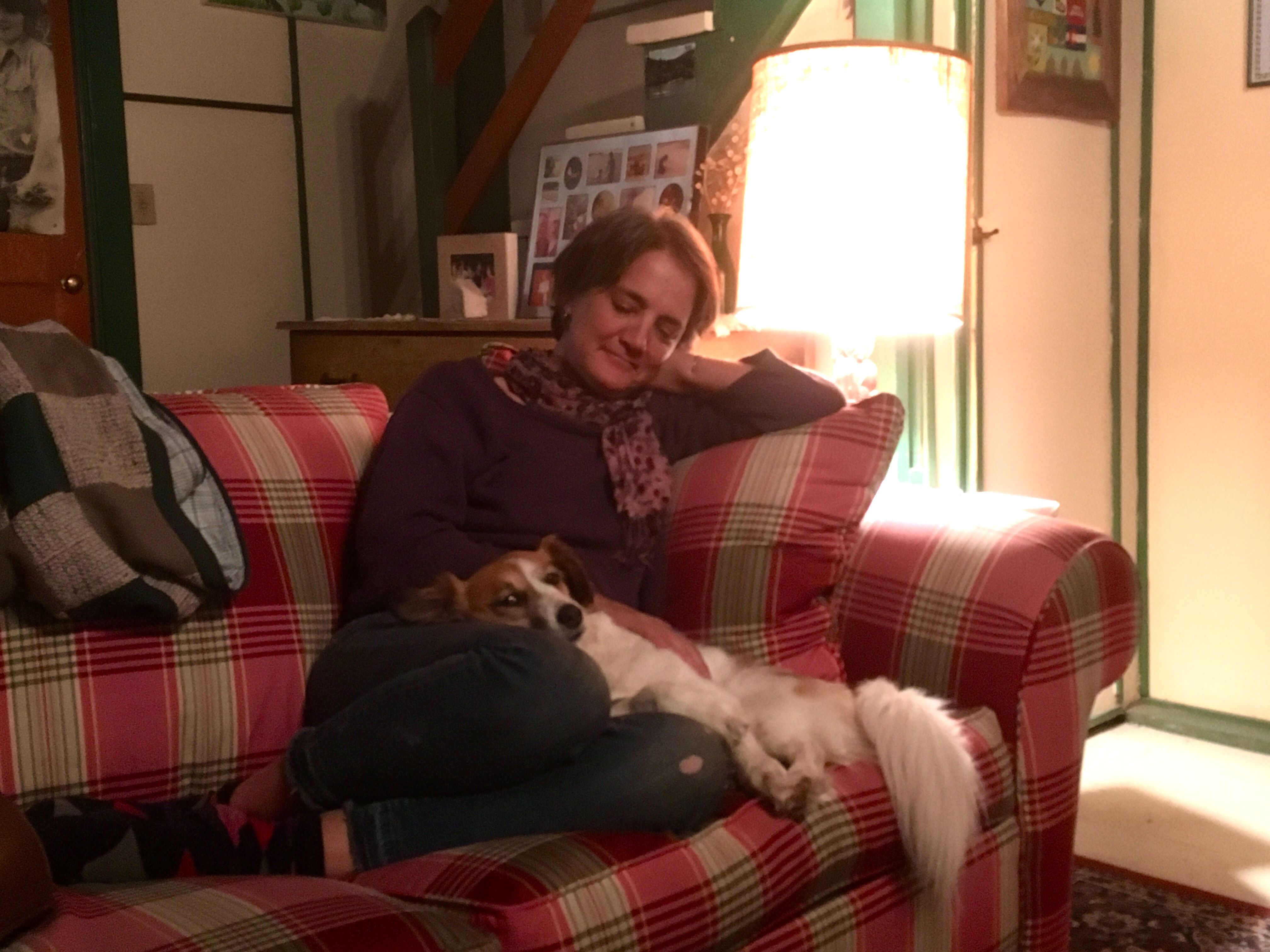 Maisie is breaking all the rules on our friend's lap as we listen to LP after LP.
This morning our friend went into Conifer to get some supplies and groceries for an upcoming river trip and Dennis and I sat out with Maisie and our morning coffee on a rock outcropping that feels like an extension of the deck, which is an extension of the screen porch, which is an extension of the house. It all feels seamless, the way you would hope cabins in the woods feel. Dennis and I sit on this rock and talk, while Maisie keeps an eye out for chipmunks and squirrels, without the distraction of what we have to do today or what booker needs to be contacted or what time the show is. A hummingbird flies so close to my head that I feel the rapid-fire beating of its wings before I hear them. It's sunny but still cold, only in the 50s, but that high altitude sun is warming the rock and our bones, and the stillness of it all is exactly what we need. 
Yesterday, Maisie and I took a walk and since she is not much for climbing mountains, we went and sat by the lake instead. The fish were jumping and her ears stayed alert and perked forward, her gaze watchful and unrelenting, lest she miss something. I alternated between watching her watching the fish and watching the never-ending ripples from the fish, the way they extend and intersect and barely fade before they repeat the cycle in a new spot, never quite letting the lake be still. We sat for a good bit. Watching. Sitting still and being quiet. Observing.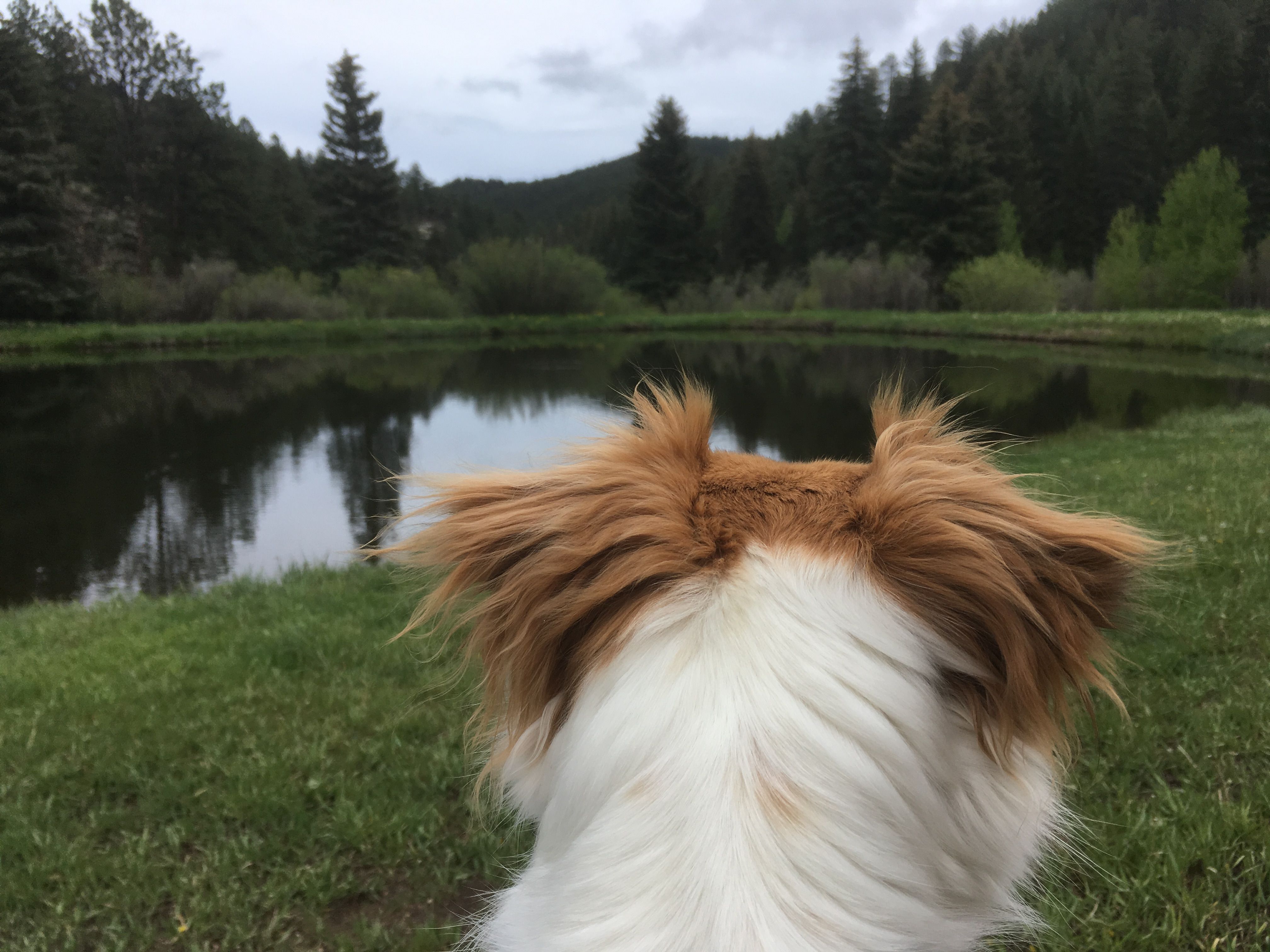 Maisie gives yet another lesson in how to observe the present with utmost attention.
Those activities — watching, sitting still, observing — they are all critical to artistic expression. When we run and run and run, it's hard to quiet the chatter long enough to let the muse in. The stories in our songs are not really ours, they are the stories that swirl all around us and we need that quiet to hear them, to catch them, to let them tell themselves through us. As I write this, Dennis is out on that same outcropping in the sun working on an new song. Sometimes we don't know how badly we need this kind of stillness in our lives until we get it.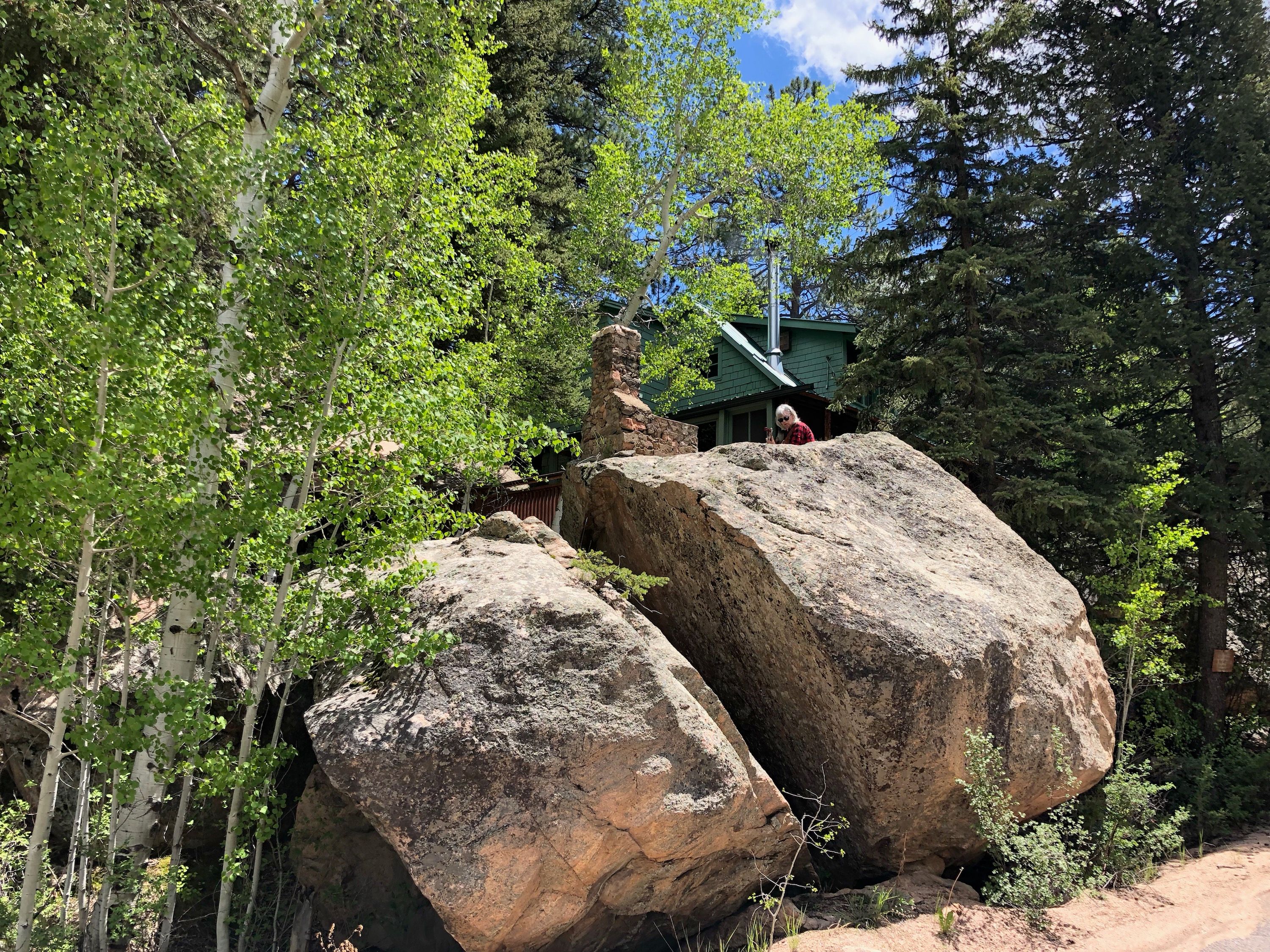 I take my turn at the songwriting perch off the porch.
The thing is, this was an unplanned retreat. When we are on the road, we don't like to have "wasted" down time. We attempt to book shows all along the way, our days spent traveling and setting up and playing and breaking down, and then repeating the whole process the next day. But booking tours is a giant, convoluted puzzle that doesn't always fall into place the way you want it to and so we found ourselves with four days between shows. What we wanted was a full tour, but to quote Mick Jagger and Keith Richards, "you can't always get what you want, but if you try sometimes, you just might find, you get what you need."   
Oh how we needed this accidental down time. How we needed to stop and take a breath and a break from all the chaos and the noise. How we cannot even begin to put into words the gratitude we feel for this time and this place and the gift our friend has given us. How we wish we could share this space with each and every one of you, how we hope we can through our songs. We promise this, though: we will stay open to the possibility of quiet spaces and places and we will give that to you, the best we can, through the music. It's the least we can do.
~Lauryn
June 19, 2019