It's been a whirlwind the last couple weeks here at SoBS headquarters, with a great run of shows leading up to a very exciting appearance at a festival hosted by another husband and wife duo we hold in very high regard. We're back home now and prepping for the next run but for the moment, I'm taking a minute to reflect on these last couple of weeks. 
We performed a short opening spot for Sam Baker — what a gracious artist! We arrived in the midst of his soundcheck; Sam soon finished and came bounding back to the dressing rooms with the energy of an 11 month old labrador retriever. Infectious and uplifting, full of excitement, he welcomed us as if we'd just arrived at his home after a long journey (the irony being that he was in our hometown). Following our soundcheck, Sam asked us if we'd join him at the end of his set for a couple of songs. I said yes before we had a moment to think and the next thing you know, Lauryn is cajoled into an impromptu fiddle accompaniment. A quick and dirty "rehearsal" later and we were left to cross our fingers and make it up as we went. We closed out the show with him on two songs with me singing back-up and Lauryn serenading the theater on the fiddle (you can listen here and here). It was a wonderful experience, as was getting to talk art with Sam backstage. Do yourself a favor and pick up a copy of his album, "Say Grace".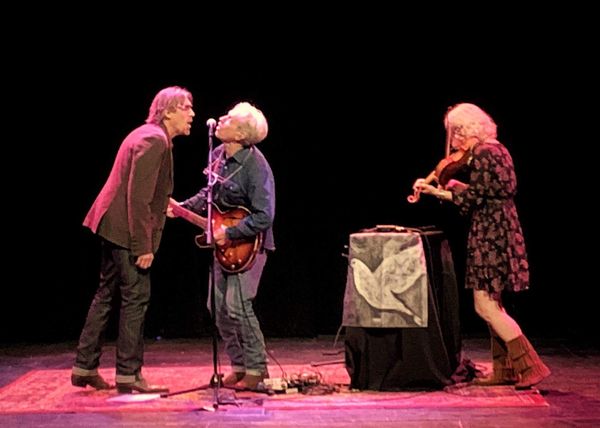 Next up on the milestone list was our appearance at Nowhere Else Festival hosted by Over The Rhine at their farm in rural Ohio. We got to hear two days of incredible music, see some old friends, make some new friends, and spend some time with a couple of our heroes in this industry. The festival line-up was an eclectic mix of great music. Kicking things off was the magnetic Leigh Nash with great music all day long and ending with evening performances from Over The Rhine (Saturday and Sunday), John Paul White (Saturday), and drum roll please … James McMurtry (Sunday). 
Leigh Nash and her husband, Stephen Wilson lit the place up with his nylon string guitar and that singular voice of hers. You may recall her from her band, Sixpence None The Richer and their mega-hit, "Kiss Me" (which they performed to the delight of us all), but winning us over was the achingly beautiful "God Gave Me Horses". There's a spirit or an essence to Leigh, something that evokes a past innocence that lies within us all and something we should all revisit. Plus, she shared sips of her wine with Lauryn before we went on. 
John Paul White gave a vocal performance for the ages before turning over the stage to Over The Rhine and The Band of Sweethearts. His playing was tasteful, restrained, and sparse as that astonishing voice wove together a gorgeous tapestry of heartfelt songs punctuated by his gratitude to a mesmerized audience. We were blown away. 
Over The Rhine, performing as a 6 piece that included Jay Bellerose (hero sighting #1), dazzled us all with their inimitable music both nights. Our love of their music should be no secret to anyone reading this post. But for those of you interested in the deeper well from which we drink, Jay is a highly sought after drummer appearing on some of our favorite recordings. His playing changed the way I view the instrument (not to mention the limits of mind/body coordination). Following Saturday night's performance, we had a moment to chat with him. He was gracious as we gushed over his playing and gave some wonderful insight into his approach to the instrument –- insight I will most certainly revisit when we begin our next recording project. 
Sunday evening however, was one for the record books. James McMurtry (hero sighting #2) is largely to blame for my pursuit of songwriting. His debut album, "Too Long in the Wasteland" came out in 1989 and he became the standard bearer of songwriting for me. I've seen him many, many times over the years but I believe his performance at Nowhere Else was the most emotive I've seen yet. A consummate pro, he wrangled the crowd (many of whom I suspect were unfamiliar with him) with pure craft and impeccable timing. His songs are targeted and pointed with no fat and no BS and his delivery is just the same. Afterwards, we had the absolute pleasure of talking shop with him at length about baritone guitars, David Grissom's amps (Joe Ely "Lord of the Highway" era), tour routing, booking Rapid City, and even his next album. He's been at this career a good while now and his songs have comprised the majority of the soundtrack of my life over the last 30 years. I hold him in the highest regard and to have the honor of spending some time chatting with him left us both pretty thrilled.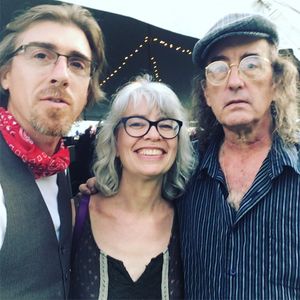 Closing out the weekend, though, was Lauryn performing a cartwheel to celebrate her 55 years on planet earth. She ended up doing several. We toasted her birthday, we toasted our appearance at the festival, and I'll continue to toast this amazing woman on this crazy journey with me. So, put on some music that inspires you, join me in raising a glass to this lovely lady I am so lucky to make music with and to call my wife, and wish us well as prepare for the next leg of our tour.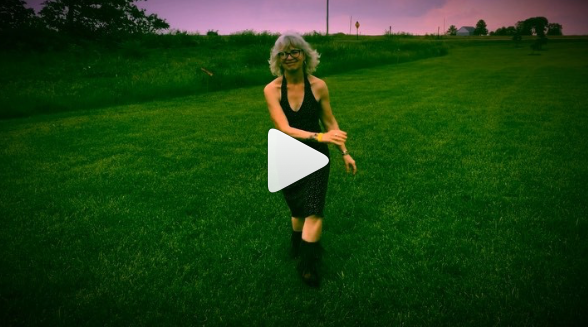 ~ Dennis
May 30, 2019
Here are links to some of the artists referenced:
Sam Baker
Over the Rhine
John Paul White
James McMurtry
Leigh Nash
Jay Bellerose
and our friends, This Side of Eve