We met a man by the name of Lucky during a show in Mississippi on this past tour. He introduced himself as we were loading into the venue by showing me a guitar pick and saying "I'm in the club too." We chatted while I was setting up the stage for our show and through a gruff and weathered voice aged beyond its years, he told me about his guitars, a venue with four stage along the border of Alabama and Florida that we should play, and his secret to a successful, 24 year non-marriage (he disappears for months at a time).
Lucky's story wove itself around the ramblings of another patron who talked about having his guitar sold out from under him by his wife before fervently espousing the merits of the percussion and drums of the Judas Priest song he'd selected on the jukebox. He also lamented he wouldn't be able to hang out for our performance because he was now a day drinker, chuckling to himself and saying he couldn't believe he was like those old guys who went to bed so early. He concluded our conversation by telling me he was also "high as a motherf**ker" before nodding towards the back patio of the bar and wandering off that direction while Lucky made his way out front for a cigarette. 
Later, during our performance, Lauryn stopped to tune for a new song and engaged in a short bit of banter about our drive along the gulf coast that day and how beautiful she thought it was. She was barely into this banter when we heard someone shout "Shut up and play!" from the sparse crowd seated around the bar at the other end of the room. I stepped up to the mic and quickly said, "Now, let's not do that" as I looked around to see who'd said it. It was Lucky. I was baffled. I'd had what I thought was a pleasant enough conversation with him and the day drinker so why would he do that? Lauryn recovered like a pro while I struggled to regain my composure but we got back to the music and played the next song. A few minutes later, as we were discussing what to play next, Lucky again shouted "shut up and play" on his way out the door and then he disappeared into the night.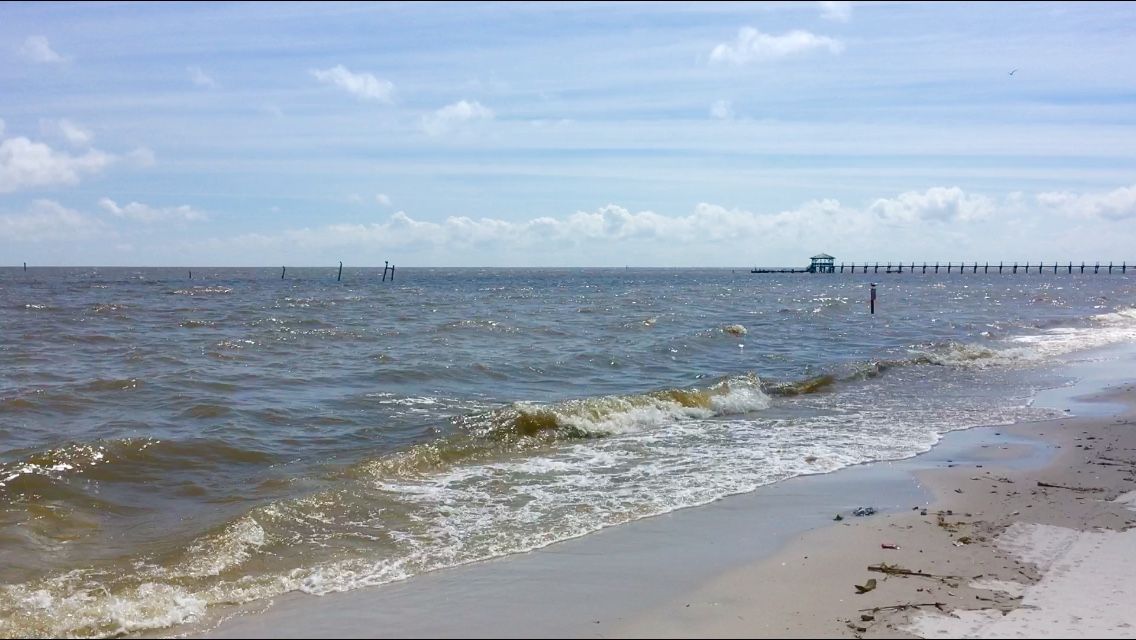 In spite of the less-than-warm welcome, we were happy to have an afternoon down on the Gulf Coast on our way to the show.
I didn't think I was going to write about this but it's relevant to our current state of affairs here at SoBS headquarters. Both Lauryn and I find music to be an all-purpose tonic for what ails us and we strive to give that back to others. In the course of this pursuit, we find ourselves in strange and varied environments playing to folks from all walks of life. It's rewarding and humbling at times, exciting and scary at times, exhilarating and maddening at others. A mixed bag for sure. And for the most part, we're willing to ride out the many bumps in the road that come our way. But this encounter with Lucky has me perplexed, has me wondering about the nature of luck and chance in our success or failures. 
A week prior to the encounter with Lucky, as we made our way to the first show of this tour, we were invited to perform at a festival we'd been hoping to play. We'll be part of an event with some folks we truly admire and it's a huge honor. But what a strange duality to have this encounter with Lucky in such proximity to the exciting news of the festival. How far we've come, but how little things change. I have a hard time making sense of the randomness of so much of what we encounter. Is it just chance? Chance that we'll play this festival and chance that we had our run-in with Lucky? Or is there a cosmic trajectory of some sort that's too complex for us to recognize while we're in its midst? 
We overnighted onsite in the RV and woke the next morning to the chatter of the patrons in front of the venue smoking. It was a little before 9 am. I peeled open the blind to see Lucky moving his bicycle out of the doorway. Perhaps some of these other folks were the 3rd shift from the local manufacturing industry stopping by for an after work beer but who knows. We made our coffee and tea, had breakfast, and got ready to depart. As I went around to the front of the vehicle, there was a note from Lucky under the driver side wiper. It read, 
"Hey, you seem to be too full of yourself. Lighten up be more humane/music was awesome. Don't let your ego get in the way! Lucky PS Happy Trails!" 
Thanks for feedback Lucky. I'll do my best.
~ Dennis
April 25, 2019